[ad_1]

With the manager carousel kicking into high gear yesterday, the MLB offseason has already kicked the pig and is on the move. The league has seemingly moved beyond trying to starve out every free agent and leave them hanging until spring training or beyond, but it also doesn't move all that quickly either. It's a pretty weak free-agent class, but that doesn't mean there aren't a couple whales out there for teams that want them. And hey, maybe this time a few teams won't get freaked out by the same medical! We'll start our rounds where MLB starts all of its stories, the AL East.
Kyle Schwarber did something that's only been done 11 other times in MLB history | Stats That Will Blow Your Mind
Baltimore Orioles
Owner cheapness level: Not just cheap, but also dumb, paranoid, and blameless according to owner John Angelos.
Outlook: Even if there was some air in the 101 wins the Orioles piled up, they still could easily roll into the 2024 season not just AL East favorites, but AL pennant favorites, given that they will return all of last year's team and also add the best prospect in baseball full-time, Jackson Holliday. They could argue — and their pisshead owner John Angelos almost certainly will to avoid cutting any bigger checks than he has to — that another year will provide Grayson Rodriguez and Kyle Bradish the development to be a true No. 1 and No. 2 in the rotation. Add to that maybe John Means being healthy for the first time since the 90s (feels that way at least), and there's certainly a way the Os can avoid signing anyone to a big contract and still be very good.
It's a piss poor way to look. Even if the Os don't address the top of their rotation, there are plenty of guys to buttress the middle behind Rodriguez and Bradish like Eduardo Rodriguez, Marcus Stroman, or Jordan Montgomery. If they really got a wild hair on their ass, they'd call the Mariners and see which one of their wealth of young hitters, or two, would allow them to pry something like Logan Gilbert loose.
The O's probably need another arm to take the place of Felix Bautista in the late innings from the pen, though these days that could be anyone whom they get to throw one pitch all the time that no one can hit.
In the field, the O's would be better off not counting on another BABIP-fueled bounce from Ryan O'Hearn. The big fish would be sticking Cody Bellinger there, though a one-year pillow deal to bring Rhys Hoskins a couple hours south wouldn't be the worst idea either.
The Orioles just need to act like one of the big boys, because they are one now. Simply letting nature take its course shouldn't be good enough, though it's one they'll probably take.
Ohtani Meter (1-10, with 1 being highly unlikely to sign him and 10 being in the chase): 0.5
Boston Red Sox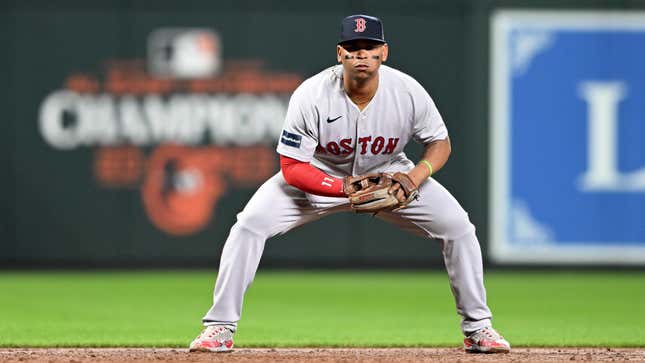 Owner cheapness level: That Erik Karlsson contract is a real bear now, and the hundreds of millions they'll get next summer from Saudi Arabia for Mo Salah somehow won't make it to Fenway, so pretty high.
Outlook: It's hard to know what the Red Sox want to be, given that they fired Chaim Bloom for being unable to do much while ownership was handcuffing him and tossing him into the Charles. They finally hired a new GM in Craig Breslow, but what his directive is is only known within those walls.
The Red Sox didn't really do anything well last year, which is how a team ends up in last place. They were middle of the pack or worse in offense, starting pitching, and out of the pen, so there isn't really anything they couldn't use. Depending on what the plan is, of course.
The Sawx seem pretty set on the corners with Tristan Casas and Rafael Devers. Wilyer Abreu probably did enough in a brief audition last season to take the left field job, and if the Sox want to they can just settle for the meh production of Alex Verdugo in right. Luis Urias at second screams for an upgrade, and they could use one in center as well if they want to get cute. The old Red Sox would sign Bellinger just to keep him from going to The Bronx. This version however is unlikely to do so.
The rotation will hinge on Chris Sale, who will be 35 but also entering his free-agent year. So if he has one dominant season left in that left arm that's been made of children's hopes and dreams for a few years now, this will be it. Kutter Crawford and Brayan Bello should, should make for a pretty solid middle of the rotation, though that's the last good thing we'll say about any dude named, "Kutter." They could use any of the starters on the market, though that probably only takes them from 78 wins to 82 or 83, which isn't enough in this division.
There aren't a lot of kids on the cusp here to raise the Sox floor, and they would have to spend a lot of money to upgrade at second, center, and maybe catcher to do so as well. FSG hasn't shown much willingness to do that, and it might be another season in baseball purgatory at The Fens.
Ohtani Meter: If he could play as a defensive midfielder, 7. As the current baseball player he is, 1.
New York Yankees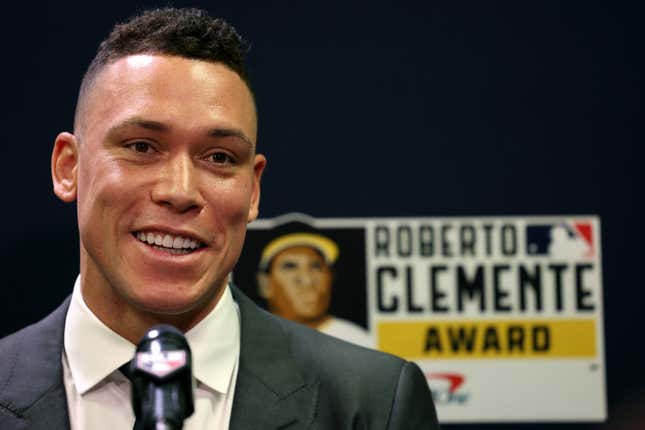 Owner cheapness level: On a normal scale, not all that cheap. On the Yankees scale, pretty damn cheap.
Outlook: It's funny to think of the Yankees as a weak offensive team, given their reputation and also the feeling that any doofus with a large stick can manage 20 homers in the newest Yankee Stadium. But that's what they were, finishing 19th in team wRC+ and 25th in runs. A lot of that can be chalked up to Aaron Judge missing nearly half the season, but the Yankees shouldn't be so dependent on just one guy.
It would help to admit that both Giancarlo Stanton and DJ Lemahieu are clinically dead and move on. Matt Chapman seems a far more attractive option at third. Is Anthony Volpe ever going to hit? They can carry a glove-only shortstop if pretty much everywhere else is an offensive weapon. They had a body blow when Jassen Dominguez blew out his elbow, or he would assuredly be taking one of the outfield spots. Everson Pereira will do so, because no one needs to see Jake Bauers for an extended period of time. Estevan Florial has mashed at AAA for two years and probably deserves a chance to take over in center, assuming the long-rumored chase of Bellinger doesn't come to fruition. There isn't a catcher that really upgrades what they have.
The Yanks might be gunshy about adding to the rotation after Carlos Rodon hurt himself depositing his checks, but the rotation wasn't all that good beyond Gerrit Cole either. They can try to count on Rodon being healthy for a full season, or they could count on Ozymandis landing that giant squid on all of Camden Yards, Tropicana Field, and Rogers Centre. They need to pull in another starter or two.
Ohtani Meter: 4, but the quirks of signing Ohtani might affect the Yankees more than anyone else. His presence would mean Judge having to play the field pretty much every day. Which has shown to lead to something on him going poof. If they're even planning on having Stanton in the lineup, and they shouldn't, he simply wouldn't fit anywhere with Ohtani around as he would get hurt from the breeze of the No. 4 train going by if he's in the field. And that wouldn't be balanced out by his pitching work until 2025. It's an odd fit, though not so odd they shouldn't try.
Tampa Bay Rays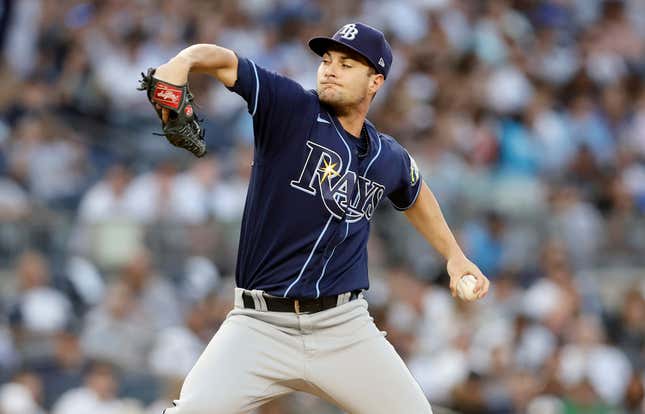 Owner Cheapness Level: Scrooge-like, even with his fancy new stadium in the same place he spent years telling everyone no one could get to.
Outlook: One would hope with their new stadium now secured that Stuart Steinberg would be coaxed to start spending like a real team, but one also shouldn't sit on a hot stove waiting for that to happen. The Rays' problems are what they were, in that they'll have three starters on the shelf most if not all of next year in Drew Rasmussen, Jeffrey Springs, and Shane McClanahan, all of whom came down with elbow knack last season.
The rotation problems will probably get worse as they're likely to at least look into trading Tyler Glasnow. He's 30, in the last year of control, and can't be counted on to make four or five starts in a row before something falls off his Big Bird frame.
They could use a new shortstop, given that last year's incumbent could be headed to prison. Maybe Junior Caminero gets a shot, though he leans more as a third-baseman. Carson Williams shot through three levels last year, though the last stop at AAA was a rough one, and he's probably no more than a midseason call-up. Though that's kind of the Rays' MO. Tim Anderson reclamation project?
Feels like the Rays will run this lineup back, and wait for a real charge in 2025 when those three pitchers are healthy again.
Ohtani Meter: -2
Toronto Blue Jays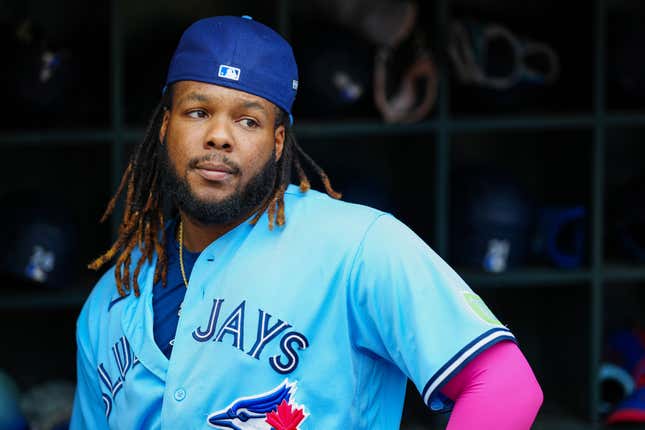 Owner cheapness level: Middling to low.
Outlook: Given the hype around the bevy or MLB nepo babies the Jays brought up a couple years ago, you'd be forgiven for thinking that they just mash the hell out of the ball while making up the pitching. It's very much the reverse, as Rogers Centre worked against Vladito and Alejandro Kirk for most of the season. Daulton Varsho forgot to bring a bat from Arizona after last offseason's trade, and George Springer's walks and power dropped as he got into his mid-30s.
Re-signing Matt Chapman carries some risk as he's now 30, but the Jays also might not have much choice. Cavan Biggio is 28 and pretty much is what he is at this point, which is a guy. Bellinger would do a world of good here in center while also letting Guerrero Jr. get a fair amount of time at DH to keep him fresh.
They could use another starter too behind Kevin Gausman and Jose Berrios. They don't have any idea what Alek Manoah is or what he will be, and Chris Bassitt will be 35. Don't have to go top of the line, but a reunion with Stroman makes sense to take over as a No.3 or No. 4. Maybe trying to see if they could get Carlos Carrasco back to 2022 form instead of 2023 form on a one-year deal works too, though he'll be 37 and maybe the 2023 form is just what he is now. The Jays aren't far away, which they've been for two or three seasons now, but they need more than a touch-up to run with the big dogs that they claim to be.
Ohtani Meter: 3
[ad_2]

Original source here

#Heres #MLB #offseason #outlook #American #League #East