Last night, we witnessed one of the scariest moments in NFL history. The image of Buffalo Bills' safety Damar Hamlin getting up from a hit just to fall down unconscious moments later will be ingrained in my mind for a very long time. As players, coaches, and medical staff from both teams circled around Hamlin, tears running down many of their faces, it was clear that all focus was on making sure Hamlin would survive, as it should've been. Now that the dust has somewhat settled though, another player deserves our attention and understanding: Cincinnati Bengals' wide receiver Tee Higgins.
Higgins was the player who collided with Hamlin moments before Hamlin went into cardiac arrest. After rewatching the play several times, it is clear that there was minimal head-to-head contact on the play, and all Higgins was trying to do was get a few extra yards, as any professional football player is taught. Higgins obviously meant no ill will toward Hamlin, yet several people don't see it that way.
After the hit, Higgins' Instagram was flooded with comments from trolls, scumbags, and idiots blaming Higgins for what was happening to Hamlin. They were calling him "dirty" or "ruthless," some even went as far as to call him a "murderer" — just despicable stuff from despicable people. Thankfully, several others have since commented on Higgins' posts telling him to keep his head high, reminding him that he could've never predicted what happened, and that Hamlin's condition was nothing more than a freak accident. It's so important that Higgins hears those messages right now.
Higgins was distraught after realizing what happened. He ran to his mother and wrapped his arms around her, presumably bawling his eyes out, blaming himself. I can't imagine the toll something like this takes. Everybody's heard stories of how killing — or in this case seriously harming — another individual can destroy their psyche. The mental toll is large, and several people never truly recover from that kind of trauma.
G/O Media may get a commission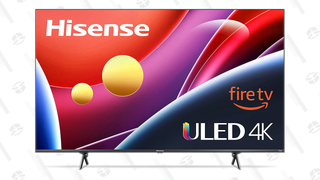 42% Off
Hisense 58-Inch ULED LED 4K Smart TV
TV time
This 58-inch smart TV has 4K visuals on a stunning ULED screen that boosts color, contrast, and brightness, has Fire TV built-in for convenience, and even includes Alexa.
Although we've never seen an injury of this magnitude, other athletes have expressed immense guilt after delivering hits that caused serious injury to other players. After JJ Watt sacked Alex Smith and broke his leg in 2018, an injury that would eventually threaten Smith's life. Watt said he felt "sick and terrible" after it happened, and re-watching the play, you can see the desperation in Watt's movements as he realizes how severely he'd hurt Smith. Watt's hands immediately hit his head. You could tell he felt awful for what he did, even though he couldn't have possibly predicted such an injury would become from an otherwise normal sack.
Thankfully, Watt forgave himself and was able to continue playing football. I'm sure he reached out to Smith several times to apologize during Smith's recovery, and I'd hope that Smith understood the blame didn't fall on Watt and forgave him as well. Receiving forgiveness from the affected person would likely go a long way toward helping Higgins get through this traumatizing moment, but that doesn't mean we, the fans, can't also let him know that he's not at fault. The more he hears it, the more he'll believe it, and the less he hears it, the more opportunity the trolls online will have to try to convince him he deserves every ounce of blame he gets.
Obviously, most of the focus should be placed on Hamlin. A man's life, livelihood, and way of living are all at stake, and making sure he is alright should be the top priority. In all that effort to support Hamlin though, we can't forget to lend a hand or two to Higgins. He's likely in a very dark place right now, and even though he's got family, friends, and teammates to lean on right now. The fans have a role to play as well. Prayers up for Hamlin, and hands out for Higgins.




Original source here

#Damar #Hamlins #NFL #injury #Bengals #Tee #Higgins #fault