He's a Michigan legend and was clutch whenever the Chiefs needed him. On Sunday night, after the conclusion of Super Bowl LVII, former Kansas City backup quarterback Chad Henne called it a career, announcing that he was hanging up his cleats after collecting his second ring. It's understandable why retirement news from a 37-year-old man who only started one game in five seasons in Kansas City isn't grabbing headlines — especially since the guy he sits behind has two MVPs and two Super Bowl MVP trophies.
But, it doesn't mean that the Chiefs don't have a huge void to fill.
There's an old adage in football that says, "if you have two quarterbacks, you actually have none," as it speaks to how the most famous, and important, position in sports is viewed. There can only be one QB1 because having your starter looking over his shoulder just brings unnecessary drama to your locker room. However, it doesn't mean that QB2 isn't important — especially in Kansas City.
Long before Patrick Mahomes was the best player in the NFL, he was Alex Smith's backup with the Chiefs. And once No. 15 took over the reins from No. 11, No. 4 (Henne) was brought in to take Mahomes' old job — which was a smart move.
G/O Media may get a commission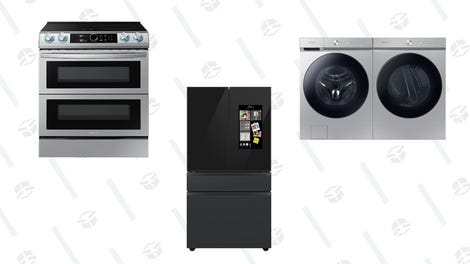 BUNDLE AND SAVE
Samsung Presidents Day Appliance Sale
Save on refrigerators, washers and dryers, and more
The Samsung Presidents Day Sale event features price cuts and promotions on refrigerators, washers and dryers, vacuums, and much more. Unsure which pieces are worth your time? We've got a great selection here to choose from so you can pick up what best speaks to you before the sale ends on March 1.
In 2021, Henne came up huge for the Chiefs in the Divisional Round against the Cleveland Browns when Mahomes went down, as his 13-yard scramble and clutch fourth-down completion to Tyreek Hill sealed the deal.
Backup QB Chad Henne SAVES THE CHIEFS & Surprises Everyone With Throw to Tyreek Hill To Seal Game
The 'Spirit Warrior'
"That's why we love Big Red. He's always on time," said former Chiefs defensive back Tyrann Mathieu about Henne. "He's like our spirit warrior out here behind the scenes. He's always trying stuff. We always knew he has one play on the table."
And just last month, Henne saved the day for the Chiefs again as he had to fill in for an injured Mahomes during the Divisional Round against the Jacksonville Jaguars — as he led a 98-yard touchdown drive.
Henne's tenure in Kansas City is a testament to how important it is to have a dependable backup behind your starter. Just take a look at what happened to San Francisco this past season, as they went through four different quarterbacks between Trey Lance, Jimmy Garoppolo, Brock Purdy, and Josh Johnson all due to injuries. There's also the fact that you can make a great living being QB2. After a stellar college career, Chase Daniels went on to play 14 seasons in the NFL and made over $41 million — and only started five games.
So, as the offseason gets underway and we head towards the draft and free agency, what quarterbacks — young and old — end up where will be discussed. However, whoever ends up as QB2 in Kansas City could wind up determining how the 2023 season ends for the Chiefs. 




Original source here

#Chad #Hennes #retirement #bigger #news #Chiefs #reliable #backup